About
ZiPZAP Computers Limited are based in Lincoln, United Kingdom.
Originally established in 1986 as a partnership and trading as ZiPZAP Computer Consultants, we changed to a Limited Company in 2002 and moved to our current address at the Lincolnshire Chamber of Commerce in June, 2016.
We produce groundbreaking bespoke software design and code production at the cutting edge of development.
Our main expert area historically has been the production of computer programs for the Windows, Linux or Mac platforms. We currently produce software for a number of diverse industries but one area that we have specialised in is the writing of programs for the European logistics market where we have been producing systems for major national parcel and pallet delivery companies for over 30 years. We don't just work for big companies either, we have many smaller companies on our books.
Our developments have used a variety of platforms including MSSQL Server and MySQL. Currently our main office system uses a Linux server running a Windev based Manta SQL server, this allows secure access from anywhere in the world. We use MySQL and Apache on two Raspberry Pi Linux-based web servers to run our main Bulletin Board and its redundant backup. Programming is done on Dell desktops and MacBooks. We have iPads, iPhones, Android tablets and Android phones to cover just about any eventuality. We have adopted a system with two duplicated sites in case of a catastrophic failure.
We are a small friendly company. All of our developments are unique and fully 'in house' for the security and reassurance of our customers with nothing outsourced to any other third party. We do not farm work out to cheap sub-contractors in third-world countries and then claim their work to be our own, nor do we claim any qualifications that third-parties may have and try to claim them as ours.
ZiPZAP Computers Limited is registered in England (Company No. 4576382) with a Registered Office at Commerce House, 2 Carlton Boulevard, Outer Circle Road, Lincoln LN2 4WJ United Kingdom, Europe.
VAT Registration: GB 526116371 EORI: GB526116371000
[Check]
Data Protection Act Registration: Z8209425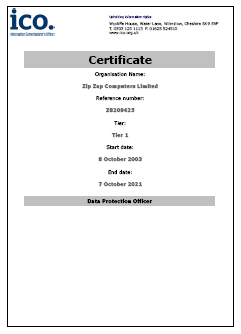 §